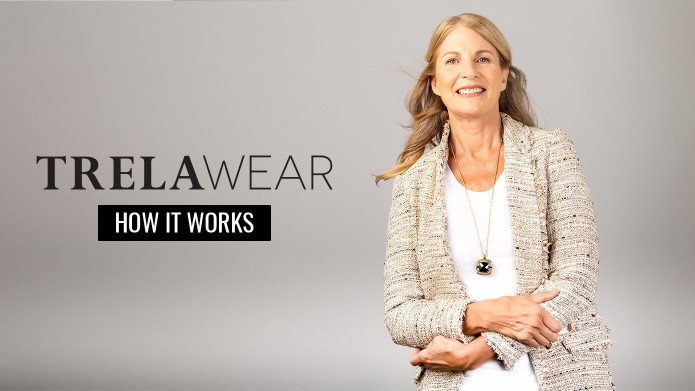 Using Trelawear is a simple 3 step process and very similar to buying a cell phone.
     1) Purchase a pendant on trelawear.com
     2) Either alone or with the assistance of a Trelawear customer service representative, call MobileHelp at 1-800-914-8796 to sign up for a monthly monitoring service plan. No contract is required and you can cancel at anytime.  Email info@Trelawear.com if you would like our assistance to sign up for service. Mobile Help is available Monday-Saturday 8:00am - 8:00pm EST.  If you prefer visit https://www.mobilehelp.com/pages/compare-medical-alert-systems to purchase your monitoring system on line. We recommend the DUO system to use your Trelawear pendant inside and outside your home.
     3) Once you finalize a plan and receive the Mobile Help equipment, call the Mobile Help Technical support phone # at 1-877-827-6207 to remotely pair the device by pushing the "T" button on back of the pendant. This process takes less than 5 minutes. MobileHelp Technical assistance is available Monday- Friday 9:00am-8:00pm EST, and Saturday from 9:00am-6:30pm EST.
PLEASE WATCH THIS SHORT VIDEO TO SET UP YOUR EQUIPMENT.
https://www.mobilehelp.com/pages/faq-
After you have signed up for a MobileHelp system and service plan and remotely paired your device you are all set. At a time of emergency, simply push the "T" button located on the back of the Trelawear pendant and an emergency notification will be sent to the 24/7 U.S. based emergency response center. A trained emergency representative will contact you through the base station or your mobile device to determine how best to help you. If required, emergency personnel will be dispatched to the location based upon GPS technology and your emergency contacts will be notified. 
Trelawear pendants pair wirelessly and remotely with the MobileHelp equipment. In order for the pendant to work out of your home, the company's Mobile Device is required.
While wearing your pendant, if you happen to accidentally push the button and initiate an emergency call, no need to panic. The representative that answers will assess the situation. If there is no emergency, the representative will not send an emergency response to your location.
When you purchase a Trelawear pendant: 
 You will receive the following:
One Trelawear necklace, packaged in a beautiful box
Care card and instructions for pairing your pendant-including a unique activation code that the MobileHelp representative will need for remote pairing.
Remember, to ensure your Trelawear pendant can access emergency help, upon receipt of your Trelawear pendant you will also need to contact the MobileHelp Trelawear referral line at 1-800-914-8796 and place an order for a system and subscription plan.
To review a list of MobileHelp systems and service plan options, please click on the link below. 
https://www.mobilehelp.com/pages/compare-medical-alert-systems